Camel Rides
Camel rides are an excellent addition to any special event. Your guests will get up close and personal with our well-mannered dromedary camels.
We own the largest herd of working camels in Michigan (Stro-Bull Farms) and ha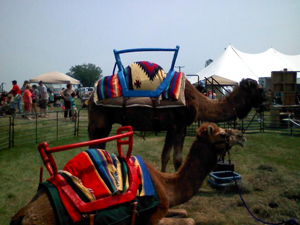 ve bred, raised, and trained camels for many years. We work with the other top camel trainers and breeders in the country to ensure a herd of healthy, well-trained ride camels. We strive to have the healthiest, most well-adjusted camels, bar none.
If you have need of a camel, or two, or three, or four, or...well, you get the picture. Call us. With thousands of happy riders and one little kid who cried—but that wasn't our fault, he had camel issues—our success is built on the relationship between our camels and us.
Call 734.368.1649 or email us for dates and rates.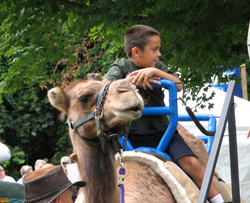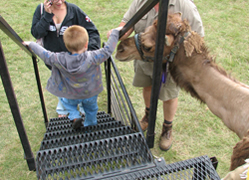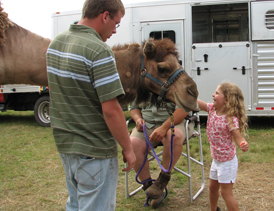 Space requirements
We require a 30' x 30' (minimum) space for a camel ride set up. We provide a stable platform for mounting/dismounting, riding ring perimeter, and hand sanitizer for everyone's safety and comfort.